Lady Bird starring Saoirse Ronan and directed by Greta Gerwig tells the story of a young girl named Christine "Lady Bird" McPherson, who is in her final year of high school and is dealing with college applications, issues with her mother and like all young girls, boys.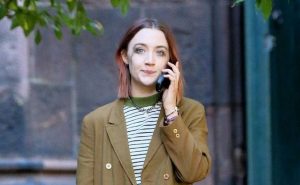 This film is currently being nominated for 5 Oscars including Best Motion Picture of the Year, Best Performance by an Actress in a Leading Role, and Best Achievement in Directing. And has already taken home two Golden Globes for Best Motion Picture in a Musical or Comedy and Best Performance by an Actress in a Motion Picture in a Musical or Comedy.  
One of the things that makes Lady Bird so special is how relatable the actual character of Lady Bird is when it comes to being a young girl transitioning into young adulthood.
Wants to look like the models featured on magazines.
  At one point every girl has wanted to look like the models we see plastered across the magazine pages, with long legs and luscious hair. In Lady Bird, there is a scene where Lady Bird and her friend point out how glamourous the covergirl is. And she also repeats it again when trying on dresses for the school dance. It's safe to say we've all been there!
 Likes to go by a different name.
Lady Bird wasn't born with that unique name. She was actually born with the name Christine  but changed it to Lady Bird. I mean how many times haven't we imagined being named something else.
Wants to explore different cities and cultures.
In one of the first scenes of Lady Bird, she is arguing with her mom about applying to colleges outside her hometown because she wants adventure and new sights and experiences. If you don't recall considering leaving your hometown after high school are you okay? We all want a big city adventure!
Goes through the "fighting with mom" phase.
Many of us have been through the "fighting with mom" phase- you don't agree on the same school, boys, or clothes. It's unavoidable when you have a mom who really cares about your future.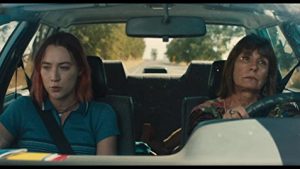 P.S You will grow out of it. *wink, wink
Praises Alanis Morissette and colored hair.
Because Alanis knows our soul.
Loves to eat
Girls love to eat. Enough said, and we all love the scenes where Lady Bird is snacking. If only we can grab some through the TV screen.
Doesn't discover school programs till Senior Year
Maybe we're too wrapped up with friends, boys and self image to realize our schools have more to offer. Lady Bird doesn't discover the Drama program until her senior year- been there.
Wants to go to Paris and learn how to speak French.
Pretty much on all of our bucket lists.
Screams, dances and celebrates when your crush finally kisses you.
Lady Bird dancing on the street after kissing her crush is all of us at one point.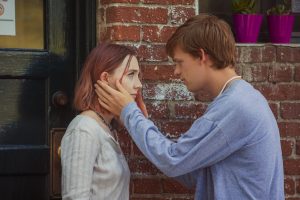 Is lied to by boys.
How many lies haven't we heard from a boy? Right!? After losing her virginity to a boys who said he was also a virgin, Lady Bird discovers he actually lied and has slept with six other girls. And the guy she dated before him, didn't actually like girls in a romantic way.